ANCESTORS - Suspended in Reflections [cd]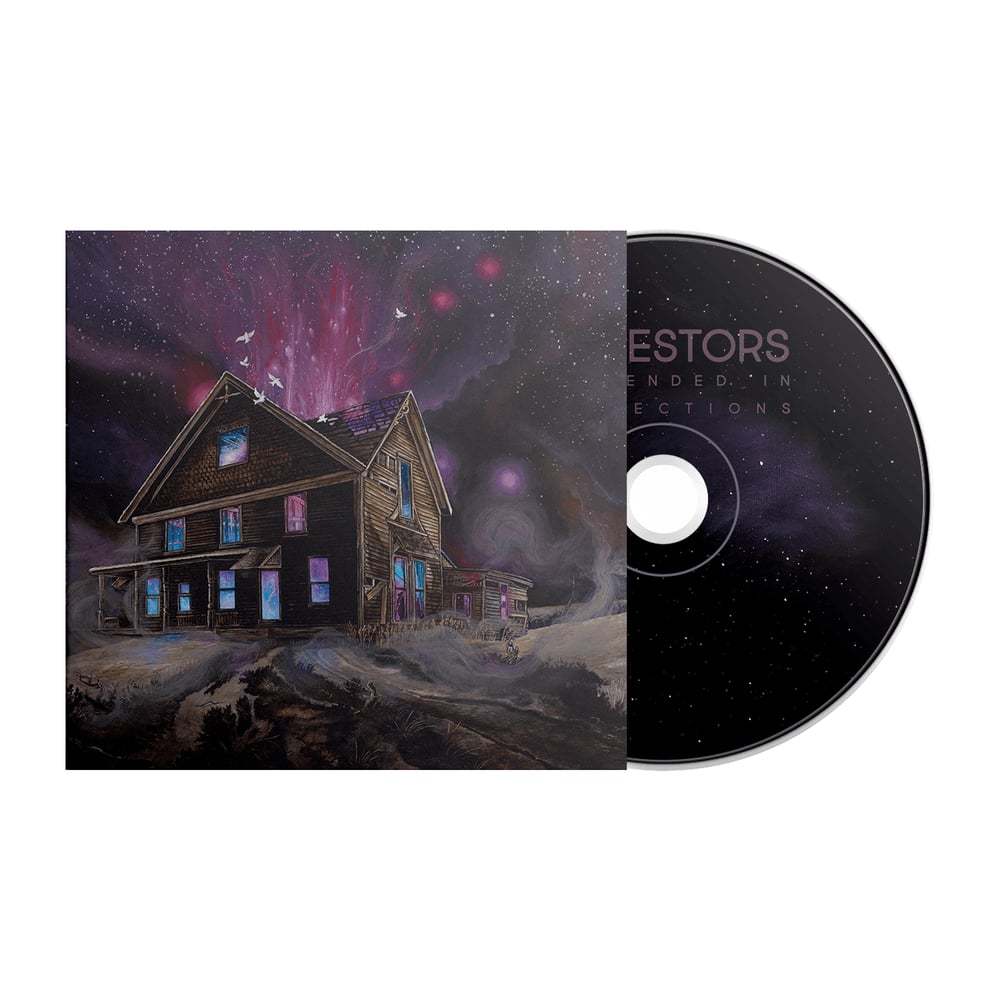 ANCESTORS
Suspended in Reflections
gatefold digipack CD edition

a1. Gone
a2. Through a Window
a3. Lying in the Grass
b1. Into the Fall
b2. Release
b3. The Warm Glow
Suspended in Reflections is Ancestors' 4th full-length album, and was released on August 24, 2018 on Pelagic Records.

Los Angeles' ANCESTORS create mighty, modern music that dovetails slow, heavy riffs and atmospheric, melodic instrumental passages, exuding a deep sense of melancholy.
Six years have passed since the band's previous album, In Dreams and Time, which came at a transitional and difficult time in each of the band members' lives. In those six years, the band has slimmed down from a 5-piece to a 3-piece, also adding drummer (Daniel Pouliot of HORSE THE BAND and ex- SILVER SNAKES) to their ranks. This lineup has consciously taken their time in writing their 5th album. It was surely worth the wait: Suspended in Reflections is a culmination of everything the band have accomplished thus far. It feels like ANCESTORS have finally arrived at their own, right place.
ANCESTORS' soundscapes are slow and vast, melancholic, dreamy and heavy, all at the same time: fertile soil for venturing outside of the typical realms of rock and metal instrumentation. The jazzy bass lines in "Release" and the proggy strings in "Into the Fall" prove that the 3-piece is not confined to any specific genre of music. The use of an Aeolian-Skinner church organ, however – an instrument with close to 1.941 pipes – woven throughout the album, is the proof that these excursions are not blind experiments, but landmarks of a sonic path that this band has carefully chosen.
"Ultimately, Ancestors is driven by the credo 'play the kind of music you'd want to hear,' and venturing into previously unexplored territory seems as effortlessly rote as putting a new record on the turntable."
- Alarm Magazine
"Invisible White is a surprise, but like Of Sound Mind, a welcome one. If Ancestors' progression has led them to this point and this is the shift they were waiting to make, their time was not misspent, and if it's a side-step and their next full-length finds them plugged back in and buried under massive riffage, then no doubt the experience of working with this kind of material will bleed into that process as well, and for the better.
- The Obelisk
"There is almost no concession to anything au courant or trendy now going on in rock music; indeed, one would have to reach back to hyperaccomplished, quasiclassical '70s UK prog like Egg or Henry Cow for the like."
-SF Weekly
"It's always refreshing to hear a band take a huge risk with its style, and even more so when the risk pays off. Ancestors may alienate a few old fans with their new direction, but the rewards should be tenfold."
- MXDWN
All orders ship out at least once-a-week. Your patience is appreciated. If you have any issues regarding your order, please feel free to contact us via email at [email protected].